Partners In Career Exploration (PICE): is a partnership between workforce development and education. This partnership places trained, college interns from Minnesota State University–Mankato at local school districts to provide career exploration and career counseling assistance to high school students.  In the 2016-2017 school year, about 1,400 high school students received career exploration and career counseling assistance in the following schools:
– Cleveland Public School
– Gibbon-Fairfax-Winthrop Public School
– Lake Crystal-Wellcome-Memorial Public School
– Le Sueur – Henderson Public School
– Madelia Public School
– Sibley East Public School
– St. Clair Public School
– St. Peter Public School
– Tri-City United Public School
Equipped with local labor market information on demand industries/occupations and resources including Careerwise and MCIS, the interns spend one day a week at the high schools. They provide one-on-one career counseling to Juniors and Seniors as well as assist school guidance counselors with career exploration activities for all high school students including a field trip to their local WorkForce Center.
Youth Intervention Program: targets services to youth transitioning out of foster care. Youth receive career and life skills curriculum to explore and identify positive education, career and life goals.
MFIP Innovations Teen Parent Project: provides teen parents on the MFIP program in the nine county area a single point of contact that will act as a mentor to assist teens in navigating and accessing community resources.
"Dream It. Believe It. Achieve It." Program: targets services to youth from communities of color.  In addition to providing project based work readiness activities and a work experience, this program will engage youth and their families and provide cultural awareness to the community.
Resource Mapping/Youth Directories: the Youth Council develops youth directories of resources in the nine county area. It includes information on child care, counseling, education, employment, health services, housing, libraries, recreation, transportation, youth organizations and youth services. The artwork on the cover of the directories is created by area youth. Youth directories can be viewed at the following links: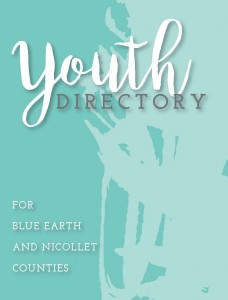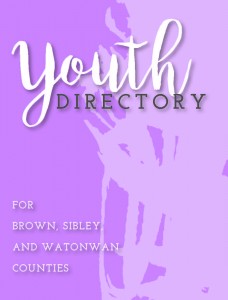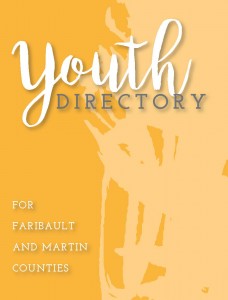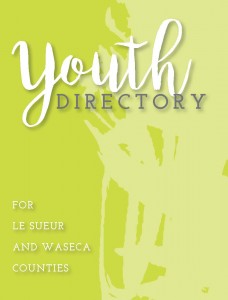 Project C3: stands for Connecting Youth to Communities and Careers. It is a partnership between PACER Center, Pathways to Employment, Minnesota Valley Action Council, and Minnesota Valley Education District in St. Peter. The goal of the project is to improve employment and post-secondary outcomes for youth with disabilities. The project provides internship opportunities for youth with disabilities to electronically map local resources available for youth. A total of 18 youth participated in the project and 92 resources in the nine county area were identified and entered on the Project C3 database. View the online resource.  In addition, the youth involved in this project received the Minnesota Alliance With Youth Red Wagon Award.
PACER Video Internships: provided paid internships for 7 youth from the MN Valley Education District in St. Peter to create three videos intended to educate youth with disabilities on the topics of self-advocacy, healthy hobbies and obtaining disability services in college. The videos are posed on PACER's YouTube account.
Facebook: The Mankato Area Community Interagency Committee (CTIC) and each of the nine counties served by MN Valley Action Council (MVAC) have Facebook pages to connect youth to information on jobs and events in the area. Go to Facebook and search "Mankato Area CTIC" and "MVAC Youth Services-(Insert County Name)". MVAC has pages for Blue Earth, Brown, Faribault, LeSueur, Martin, Nicollet, Sibley, Waseca and Watonwan Counties.
Work Skills Competition: is an event organized by the Mankato Area CTIC for area youth with disabilities. Youth participate in job interviewing, application writing and problem solving activities and judged on their performance by individuals from business and organizations in the community.
Career Fairs: the Greater Mankato Career Expo, Area Career Exploration (ACE) held in Fairmont and the Career Fair held in New Ulm are highly interactive educational experiences where business and community volunteers showcase career opportunities to high school sophomores.
Financial Fitness Training: MVAC incorporated financial fitness as a core component of all of our youth employment and training programs. Youth are required to have a savings account at the financial institution of their choice so the pay earned from their work experience can be direct deposited into their savings account. The training focuses on money management, saving money and building assets.
Exposure to Demand Occupations: Youth participate in field trips to area businesses to gain a better understanding of in-demand occupations, employers' expectations and the skills required for the occupation. Specifically, youth participated in the Tour of Manufacturing where local manufacturers opened their doors for tours and provided information on career opportunities at their business. For more information the Tour of Manufacturing web page. The SC WorkForce Council also develops a demand occupation lists which includes the wages, education requirements and projections for demand occupations in South Central MN.
Framework for Workforce Development: was developed by the SC WorkForce Council to outline operational principles and goals for services to all the populations in the worker pipeline. The Youth Council developed the following focus for youth services:

Support career exploration opportunities that provide youth with knowledge of demand/STEM occupations.
Support work experience opportunities that connect youth to local employers & teach work readiness skills.
Support community connections through service learning & civic engagement.
Support all youth achieving a high school diploma or GED.
Support occupational training that leads to a credential.
Identify service gaps for at-risk youth and leverage resources.